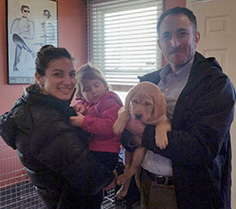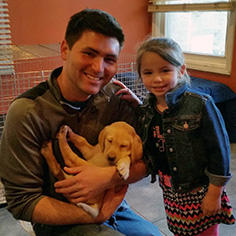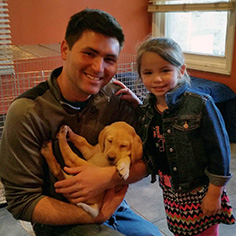 About Chicago Area Labradors & Labradoodle Puppies
Chicago Area Labrador Retrievers & Labradoodles is located 25 minutes north of downtown Chicago, in Evanston.
Breeding high quality Labradors and Labradoodle pups for the past 15 years has been rewarding and exciting! Many of our dos have been trained as service dogs! We take a lot of pride in our pups! We have established an outstanding reputation not only in the Chicagoland area, but also in other states, as well! Our pups are raised in a home and are socialized with other dogs and people.
Once the pups begin being weaned off the mother, they are given a high protein puppy food and are still allowed to nurse off their mother. This ensures they get plenty of nutrients, are healthy and strong.
The pups begin housebreaking at 5 weeks of age—once they are put into their own crate. The key to success is to get the pups out of their crate a few times per day—this helps teach them to relieve themselves outside of their crate and that the crate is their home.
The pups' dew claws are removed after a few days of birth, de worming is done at both 4 and 6 weeks of age, and they receive their first puppy shot at 6 weeks of age.
All pups are kept for a minimum of 8 weeks of age, and when it's time for the pups to go home, toy selection, food, basic training and housebreaking tips are gone over with the pups new owner.
All pups come with a 2 year written health guarantee. FULL DNA panels by Embark DNA are done on all parents, as are OFA hip and elbow certification.